See our list of Homeschool Resources (and a few just for fun) to help you make the most of your homeschool journey, and have fun doing it.
This page contains affiliate links. We may receive commissions if you click our links and make a purchase. However, this does not impact our reviews or the information we provide. We try our best to only offer links to legitimate resources and and be honest and fair in our coverage, in order to help you make the best choice for you.
Arts & Crafts
Annie's – Want something new and different for your homeschool art class? Annie's offers very reasonably priced monthly subscription kits with absolutely everything you need for your newest yarn-based, quilting, beading or woodworking project. Clear, easy to follow video tutorials are also available to teach everything you need to know.
Ann Williams Group – This monthly subscription box pops with creativity! Their offerings cover string and thread art, paper bowls, jewelry & accessories, room decor… and more! Video tutorials are available in case you need help. Ages 5 to adult will find something fun to flex their imagination and fine motor skills.
Arteza Art Supplies – Arteza is a literal rainbow of art supplies…. from brushes to pens, quilting to heat transfer vinyl and more. They offer affordable bundles for every art interest and kids' kits that let you add pizzazz to your homeschool art curriculum.
Cricut – Home crafting meets industrialization in this beautifully-designed tabletop smart cutting machine! Cricut will spark your students interest in machining, technology, or art – or all three. Older kids will love turning designs into reality.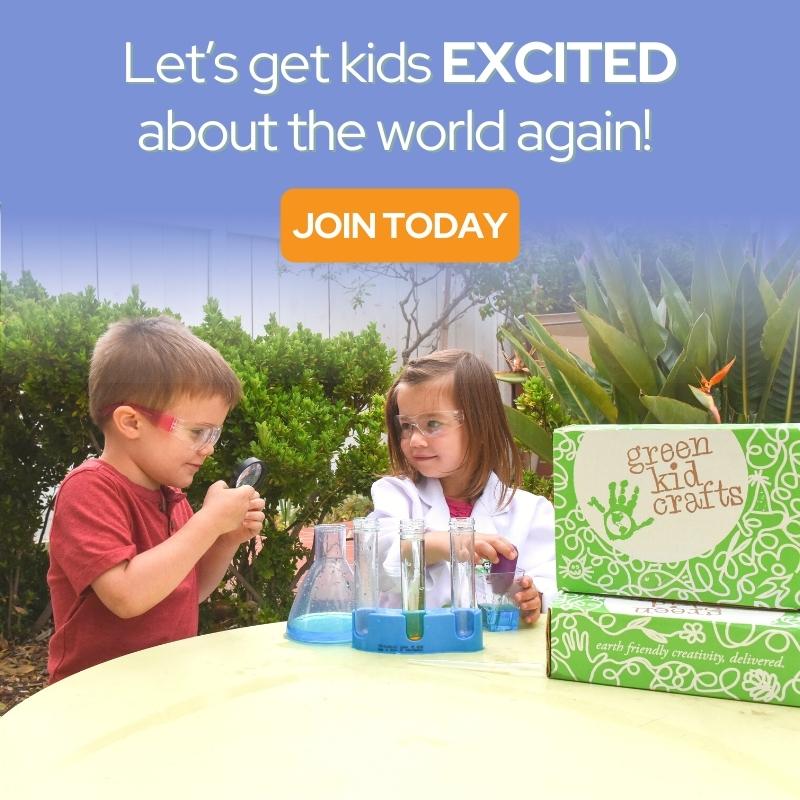 Green Kids Crafts – Do you struggle with science class? This eco-responsible STEAM subscription box packs up to six high-quality science and art kits per box. Every box also includes a 12-page activity magazine and achievement badges to reward your budding Einstein's curiosity. They offer single and sibling boxes for kids 2 through 10+.
PicMonkey – Does your curriculum include graphic arts, or are you looking for an affordable service to make yearbooks for your homeschool? Do you have an older child interested in graphic design? If you answered yes, check out Pic Monkey. They offer flexible plans and a group discount that's great for co-ops.
Scrapbook.com – Part of the homeschool journey is being able to look at pictures of all the things you've done with your kids. Scrapbook.com has everything you need to keep those memories organized and accessible. Bonus: scrapbooking helps hone planning and visualization, as well as fine motor skills.
Simon Says Stamp – If it's crafty, it's here! Your students will learn graphic design, color theory, fine motor manipulation and focus as they make everything from stamp art to felt art. There's also a full range of organizers to keep your clutter contained. More fun than you can shake a stamp at!
Zazzle.com – Want custom T-shirts for your homeschool or co-op? Zazzle lets you create shirts, bumper stickers, photo displays, graduation announcements, and plenty more. Want entrepreneurial opportunities? Have your artistic students upload their designs to the Zazzle marketplace for a fun – and potentially profitable – lesson in e-commerce.
---
Books, Calendars, & Media
Bookroo – If you're looking for a subscription service to encourage your student's love of reading, Bookroo makes it effortless. Their boxes range from ages 0-10. Chapter book boxes for older kids include full information and talking points for each book, so you're always in the know about what they're reading. Invaluable!
Calendars.com – Homeschoolers live and die by their schedules. If a physical calendar is what you're after, you can find the perfect one for your needs and style at Calendars.com. Their planners, desk, and wall calendars will help you track your lessons, appointments, co-op meetups, and sports schedules with pizzazz.
Epic! – Low cost and highly useful, Epic's $7.99 monthly subscription lets up to four students access over 35,000 books and videos, quizzes and more. Track your students' progress and reward them with motivational badges. This award-winning service also features teacher-created collections to help with your lesson planning.
Gibbs Smith Publisher – This environmentally responsible publisher is a one-stop internet shop for books on everything from architecture to zoos. They have plenty of titles to help you flesh out your geography or history curriculum. Gibbs Smith is the acknowledged leader in regional publishing, so look for books on your region now!
Movie Zyng Warehouse – Movie Zyng lets fans and collectors find rare and hard to find films and TV shows. Students interested in film history and film studies will love this easy to use site…. and so will homeschool parents as they unwind to a golden oldie after a long day teaching.
Kids Reveal Book Box – If your homeschooler reads like the wind, you probably struggle to find books enough that are fun and age-appropriate. Kids Reveal takes the guesswork out of your reading time by thoroughly vetting every book you receive from their subscription service. It's safe to love reading again!
World Book, Inc. – Specializing in readable encyclopedias and skill builder sets, World Book has everything you need for affordable, beautifully-illustrated reference books for your co-op. They even have a reluctant reader section to help both ESL learners and unenthusiastic or unmotivated readers learn to love their book time.
---
Education
Baketivity – One part learning two parts fun, Baketivity is a recipe for success for young bakers. Purchase single kits or monthly subscriptions to give kids access to everything they need to know to create whoopee pies, gluten free granola bars, cinnamon buns, and more.
A Beautiful Mess – This site offers courses on blogging, Instagram, podcasting and book proposals at reasonable prices. A lot of homeschoolers also run blogs about their adventures… A Beautiful Mess gives you the classes you need to grow your site, or teach older kids potential job skills.
Bluum – The pregnancy-to-5 subscription box! You're a busy home educator; you don't have time to read hundreds of reviews before you buy everything. Bluum curates the best in chemical free, responsibly sourced products: books, toys, apparel, body and home care – and delivers them to your door every month.
Boss Club – Entrepreneurship isn't taught in schools… but isn't that why you're homeschooling? Give your kids educational opportunities outside the mold with Boss Club. Each kit guides a child as they create a sustainable business, and marketing materials and supplies are included. About the only thing they don't pack are the customers!
Grammarly – If you're not quite up to snuff on your Chicago Manual of Style, or if you're looking for an easy resource that lets you check writing assignments fast, try this free service. It's also great for homeschool parents who blog. Compose mistake-free writing like a boss!
Groovy Lab In A Box – Encourage experimentation, observation, reflection, and note-taking with this awesome STEM subscription! Kids 8 and older will gleefully dive into science, engineering, design and math projects. The kits include absolutely everything your projects need…. and shipping is free!
Kidstir – Learn science through cooking! This flexible subscription service teaches kids about nutrition and basic science concepts. Each kit contains three complete recipes and two kid-sized cooking tools, as well as educational pages, games and puzzles, and themed activity materials.
Kid Wonder – Kid Wonder is a themed monthly subscription box that encourages learning through play with hands-on activities and crafts. Each kit comes completely equipped with quality supplies to complete 4 or more activities. Whether your kids enjoy learning about dinosaurs, space, or pets, kids ages 3 to 6 will love exploring a new adventure every month.
Little Passports – Adding geography to your curriculum? Discover a new country or state each month with Little Passports. Kids will learn about landmarks, music, animals, and more with fun themed packages that contain an activity journal, postcards, stickers, and access to online activities.
MasterClass – For homeschool students and parents alike… Masterclass lets you take very affordable classes on almost anything from experts in their fields. Study cooking with Gordon Ramsay… acting from Natalie Portman… or business leadership with Howard Schultz… all without leaving the house.
My Explorations – Jazz up your science curriculum with My Explorations! Designed for 6-12 year-olds who like history or astronomy, students can time travel to ancient civilizations with the Flash to the Past box, or study the solar system with Space Scouts.
Pinch Of Yum – Whether you're a homeschooling blogger, mom blogger, or a talented young photography student who just wants to improve your skills, Pinch of Yum offers an e-book of tips and tricks to make your photography go from meh to marvelous.
Really Good Stuff – Designed for K-5 students, this subscription box is jammed full of classroom goodies. The games are great for co-op use, and the activities and journals are perfect for all grade levels. There's a surprise theme every month, plus a bonus teacher gift.
The Preschool Box – If you've ever agonized over lesson plans for your preschooler, or lost sleep as you tirelessly cut tiny scraps of paper for crafts, The Preschool Box is here to save your sanity. It's full of over 16 activities per box, and all the supplies you need to teach them.
Steve Spangler Science – Everything you need for science exploration. Browse the experiment library to find something fun to do at home, from making leprechaun traps to slime art to SICK Science. Join the club to get monthly kits with 5 to 10 experiments per kit that are engaging and educational.
Ted's Vintage Maps – An incredible historical resource, Ted's restores and recolors vintage art prints and maps. Bring history to life with these historic prints. Perfect for homeschools that want to study art, mapmaking, or antiquities.
Visual Thesaurus – If language is your passion, you need this! This online educational marvel will let you discover how words are connected, get definitions, search the Web for information, and much more. Warning: the Spelling Bee is as addictive as it is challenging. Are you up for it?
World Book, Inc. – Specializing in readable encyclopedias and skill builder sets, World Book has everything you need for affordable, beautifully-illustrated reference books for your co-op. They even have a reluctant reader section for ESL learners and unenthusiastic readers.
---
Games and Toys
Adorable World – If you need an affordable prop for storytelling, or to engage a child with sensory issues, try Adorable World. Their most unique service: You can even boost your art curriculum; submit a child's drawing to their custom plush program, and they'll build it for you.
Brick Loot – Brick Loot is amazing on two counts: it's by LEGO fanatics, for LEGO fanatics… and it's a true entrepreneurial success story for its 9-year-old founder, Parker. Each monthly box is full of unique, custom LEGO and brick items that work with existing sets.
Capture The Flag Redux – Part of homeschooling means you don't have to play the same old boring games at recess. Kick up your capture the flag game with this reusable, light-up set. For 4-20 players, so homeschool co-ops – or big families – can play long past dinnertime.
Creative QT – Learning through creating play is what kids do…. but cleaning up the mess isn't fun for anyone. Creative QT offers practical solutions for playing with and storing building blocks, stuffed animals, and more. Check out their Chore Sticks!
eBeanstalk – If you're frustrated trying to find a toy that really fits your child's developmental needs, try eBeanstalk's specially age-matched toys, books, and games. Their developmental team includes experts in pediatric occupational therapy and education, speech-language pathology, and physical therapy, as well as over 700 moms.
Frankentoys – FrankenToys is an unusual toy collector's nirvana. Artist Gus Fink designs his Creeplings for those who love the fun and oddball. Each toy is sold blind-boxed: use a bunch to teach probability and percentages in the coolest math class ever!
Fun And Function – Kid-friendly sensory tools for special needs kids. Fun and Function pioneered the weighted compression vest for kids with ADHD, autism, and sensory integration disorder. They carry everything from oral sensory items to weighted blankets, earphones, fidget toys and more.
Fun.com – Everything is educational when you homeschool! Fun.com offers reasonably-priced toys. Help your child learn about budgets and spending limits with a purchase. Build a Star Wars model kit to increase fine motor control, or bop around a Death Star beach ball to work on gross motor skills.
HK Now Store – There's nothing like a Rubik's Cube for teaching focus, direction following, memorization, sequencing, problem solving, critical thinking, perseverance, and manipulation. Browse HK Now for a dizzying selection of cubes, rhombohedrons, dodecahedrons, and more!
HOOT for Kids – Aimed at kids aged 3-6, this non-subscription box is completely customized to your child's developmental needs and personal likes. HOOT Treasure Boxes include high-quality toys and a personalized activity card with play tips and fun ideas that help parents facilitate developmental milestones. Auto-reordering is available, but not required.
InnovaToys & Gifts – InnovaToys is a builder's dream. They carry a wide selection of 3D metal model kits in varying levels of difficulty. Not suitable for young children, but your older kids – or you! – will love the chance to learn focus, perseverance, and fine motor skills with these models.
Little Adventures – Little Adventures makes imaginative play comfortable with well-made, clothing-quality dress-up costumes. Every costume is guaranteed to be soft on sensitive skin, machine-washable, and easy to put on. If your princess wants to live in her dress, or your knight his armor, this is the site for you.
MagicCubeMall – Another cube puzzle site, MagicCubeMall has a great selection of Rubik's-type brain-trainers… everything from cubes, speed cubes, megaminx cubes, and magnetic ball building blocks. If you're looking for unusual math manipulatives, they've got them. There's even cube lubricant to help with those speed challenges.
Mail Order Mystery – Kids aged 8-13 get a chance to solve a mystery that arrives in their mailboxes in stages. Once a week, young sleuths get a new piece of the puzzle to solve. Mail Order Mystery is a unique way to learn patience, ciphers, history, storytelling, and more.
Pillow Pets – They're colorful, they're squishy, and they're soft. Pillow pets are half-friend, half furniture…. and they provide a great surface to flop down with a book during reading time or floor time for smaller kids.
Playtime By Eimmie – Playtime by Eimmie creates the toys, but your child creates the adventure. This subscription service for your girl and her best doll friend delivers monthly play packs of cute outfits and accessories to keep your daughter interested in open-ended imaginative play. The bonus journal encourages writing skills.
Print Games Now – Offering a huge range of printable, reusable and customizable games, Print Games now has everything to make your co-op gathering a success. Cooperative games teach social competence, along with gross motor and problem-solving skills, so put a few in your curriculum today.
Puzzle Master – Selling fantastic wire and wood puzzles, Puzzle Master has everything you need to boost your student's hand-eye coordination, adaptable and abstract thinking, reasoning skills, and more. Puzzles are rated from Easy to Mind Boggling so you can find the perfect challenge level.
Rose & Rex – Whether it's a whimsical, sensory-rich baby toy, an award-winning Blockitecture kit for your budding architect, or a paper doll that your child will love writing stories about, Rose & Rex toys are beautifully-crafted for many hours of open-ended, imaginative play.
Sensory Theraplay Box – If you're looking for a subscription that specifically caters to kids on the autism spectrum, this is it. The TheraPlay box delivers between 5-7 new sensory items a month that will help your child develop important sensory-motor skills…. and, just as importantly, have fun doing it.
Stuffed Ark – Stuffed toys are ideal for more than just open-ended imaginative play… A beloved stuffed animal can help your child manage their emotions, build language skills, and practice social skills. If your child would love an incredibly lifelike friend, Stuffed Ark has you covered.
ToBeAPirate.com – Got a living history assignment? Want to look the part on Talk Like a Pirate Day? To Be A Pirate gets you the garb you need in jig time! Affordably priced, solidly constructed, and quick to ship, these costumes bring the zing to your classroom for kids and adults alike.
TVs Toy Box – Look here for child-friendly DVDs and a full range of party supplies in themes that you can't find in the local superstore. TV's Toy Box is the place to find merchandise for preschool favorites like Caillou, Wild Kratts, Paw Patrol, Curious George, and more.
Walt Life – Disney occupies a special place in American culture. Explore the history and creativity of the House the Mouse Built with these Disney subscription boxes. Order to get a taste of the parks in the exclusive treat box, or collect some of the Mouse's distinctive art.
Watch Ya Mouth – Looking to practice those social skills? Challenging equals funny for this team game. Read the card while wearing a dental mouthguard, and let your partner try to (correctly) interpret what you say. While this game will exercise your reading muscles, your sense of humor will get the biggest workout.
---
Hobbies
DiecastModelsWholesale.com – Part of the joy of home education is creating a curriculum tailored to your child's interests. Automotive buffs and collectors will love these die-cast model cars. For a fun discussion activity, collect a decade of cars to see how technology and design changes from year to year.
Hobbyinrc – If your homeschool includes an RC enthusiast, you're in luck. A huge variety of affordable drones, RC trucks and cars, and all the gear you could want are available through Hobbyinrc. If you're ready to take your science curriculum up a notch with electrical engineering or aeronautical design, go here.
HobbyTron – HobbyTron is a go-to source for all your RC needs. If you have a homeschooler who loves electronics and RC projects, check out HobbyTrons selection of drones, helicopters, trucks, airplanes, cars, boats, tanks, and more.
HobbyWow – Another great source of radio-controlled helicopters, drones, and ground vehicles, HobbyWOW offers spare parts, racing drones, radio systems, and everything else you could want in the RC field… including the occasional robot. Shipping is free and the selection is truly massive.
---
Organization
Cozi – Stay on top of your homeschool curriculum and activities with Cozi. This free app-based family calendar will let you list lesson plans, daily chores, co-op activities, sporting events… everything you need. Cozi works seamlessly across platforms to keep your whole family connected and on-task.
Mabel's Labels – If you have a child with a medical condition or food allergy, reliable labels for food items aren't just important… they're vital. Mabel's Labels are laundry, dishwasher, and microwave safe, They're super cute and 100% guaranteed, so you can send your kid to sports camp with no worry.
---
Just Because
Kidorable – Let's face it… our kids are adorable, but their outerwear isn't usually anything special… until now. Let "practical" become "fantastical" with raincoats, boots, and umbrellas that reflect their rich inner worlds. Why should imaginative, open-ended play stop on account of rain?
---
This page contains affiliate links. We may receive commissions if you click our links and make a purchase. However, this does not impact our reviews or the information we provide. We try our best to only offer links to legitimate resources and and be honest and fair in our coverage, in order to help you make the best choice for you.